AME V-ALERT 
        (A Movement/Plan to Increase Voter Education) 
The Social Action Commission
The Lay Organization  
September 25 , 2016
Church of Allen and Friends,
Today, we are 45 days from Election Day 2016 – November 8, 2016. 
We celebrate YOU, for insuring that the voices of the church for not being SILENT.  Mark your calendar, organize a listening party, and sign up for the  Strategy Calls at WWW.AMEV-ALERT.ORG .  Invite everyone you know with emails, texts, website, facebook, and tweets.  Every Saturday in October at 1:00 pm (EDT); 12 noon (CDT); 11:00 am (MDT); 10:00 am (PDT).   Remain encouraged and keep it moving forward!.   
Today, get ready for National Voter Registration Day – September 27th. Go online.  Distribute Voter Registration Cards.  Register at least 10 people.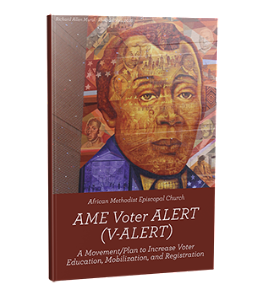 Today,
Make

AME V-Alert Toolkit 
your daily reading – share it with your church members, neighbors, co-workers, family, friends, and EVERYONE YOU MEET. 
It is your right to "sit this one out" and do nothing, but we urge you to do everything to make sure that every eligible voters Vote on or before Tuesday, November 8th. 
Bishop Frank M. Reid, III, Commission Chair                
Sistah Jacquelyn Dupont-Walker, Director
1621 Wellington Road
Los Angeles, CA  90019
323-734-7856
323-734-5003 (fax)
Select an item to readClick here
to always select the first item in the list
Social Share